Voice Insights
Our platform provides the only measure of quantitative research data validity and exposes dimensions of the data never before available by revealing subjects' emotions.
Voice Insights is flexible enough to accommodate virtually any survey and work within existing research frameworks. There are no new methodologies to learn. You won't lose one bit of the information you are already capturing using current market research activities. Voice Insights is ideal for:
Customer Satisfaction
Attitude and Usage
Ad Testing
New Product Development
Opinion Polling
Clinical Trials
Segmentation Studies
State-of-the-Brand / Competitor Studies
Employee Engagement
Workplace Stress
"Innovation Center" customer feedback capture
Many others
Providing Validitiy and "Color" You Have Been Missing
Everyone understands that when conducting quantitative research some of the data points in a study are valid and others are not. Voice Insights screens out invalid data using information about the speaker's cognitive activity and emotional content. This invalid data can be caused by a subject's confusion over the question, desire to please, embarrassment over the answer, lack of knowledge, cultural sensitivities or other factors. While invalid data is screened out, your confidence in the data that "flows through" the screen has now greatly increased as well knowing it has been validated by the cognitive activity and underlying emotions of the subject. Even better, there are voice output measures like "engagement" and "excitement" that take existing data and expand it with insights for emotional content and intensity that makes it more robust and actionable.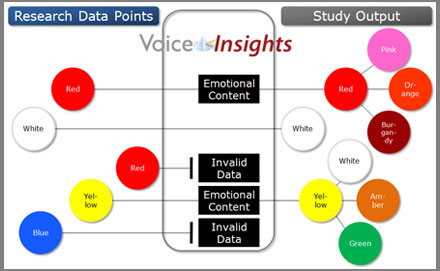 | | |
| --- | --- |
| FEATURES | BENEFITS |
| Customizable Questions | Create the optimal questionnaire for your needs that contains the critically important areas of appeal, customer satisfaction, attitude and usage, new product development, exit interviews and more. |
| Instant Results | Time is critical in any research project. Research completed on-time and under budget can get the new best product in the market place in record time and defeat the competition before they get out the door. Slow, delayed, or poorly designed research can ruin even the perfect strategy. You will have valuable information in your hands immediately following the subjects' completion of the research. |
| Simple Training and Minimal Support | The Voice Insights platform was designed to be simple and very intuitive resulting in very little time to train and maintain. |
| Automated Assessments | Administer surveys onsite in a controlled computer-based environment or design an approach with the convenience of subjects calling into an automated voice-based telephone system. Consistency of results is exactly the same in either format. |
| Patented Voice Technology | Objectively measure emotions associated with responses to research topics and questions that provide the only measure of data validity and emotional content. |
| Scalability | Administer as many simultaneous surveys 24/7 around the world as you would like. Our solutions can grow quickly and easily along with your organization. |
| Global Design | Assessments work with any language that allows your research subjects from around the world to speak in their native language. |